15 March 2019 | The Amsterdam start-up Braingineers has received an investment of € 1 million.
The marketing agency wants to use this money to expand internationally and to collect more brain data for smarter algorithms. Braingineers advises companies on how they can best organize their website. The start-up uses test subjects who test websites on site.
For example, while a tester supposedly orders a telephone, Braingineers measures what the eyes look at exactly during the ordering process. The company also maps brain activity during web shopping through an EEG scan (electro-encephalogram). With that data, Braingineers tries to find out to what extent the tester is currently enjoying, paying attention to and / or experiencing frustration.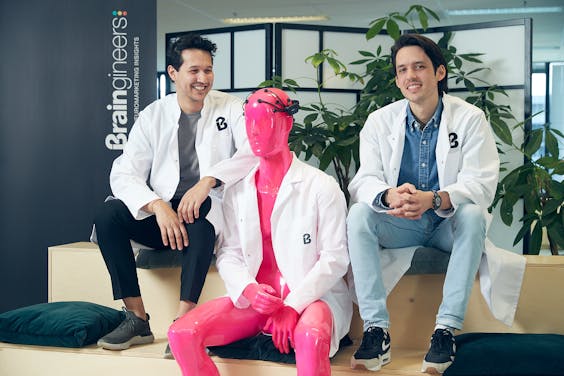 Roderick Reichenbach (left) en Max van Kaathoven (right). Photo: Braingineers
T-Mobile and De Bijenkorf
In their own words, well-known companies such as Leaseplan, T-Mobile, SNS Bank, Transavia and De Bijenkorf use Braingineers' product to improve their website. Recently, the young company with around thirteen employees also has an office in London.
"We are going to work for Vodafone there," says neuropsychologist Roderick Reichenbach, who graduated in 2011. Together with his former fellow student Max van Kaathoven, he founded the company in 2013.
Expand internationally
With the investment of € 1 million, Braingineers received a total of € 1.7 million in growth money. The investment now comes from the JOA Ventures Seed Capital fund, which is partly paid for by government funds. With this, the company wants to put its office in London further on the map and eventually expand to other English-speaking countries.
In addition, Braingineers wants to use previously collected data to make predictions about the user-friendliness of websites that have not yet been tested. "Ultimately, we want the bakery around the corner to be able to use our techniques," says Reichenbach, who believes in strong growth for his company.
Privacy
The 29-year-old entrepreneur is not afraid of privacy concerns. "We explain to our test persons very carefully what we use the data for and we only help to make websites a bit more user-friendly."
He admits that a small number of his customers would rather not be named. "But it really is not that we can unravel a secret buy button on consumers or something. The human brain is far too complex for that. "
VESPER Attorneys advised Braingineers on this transaction.
Source: fd.